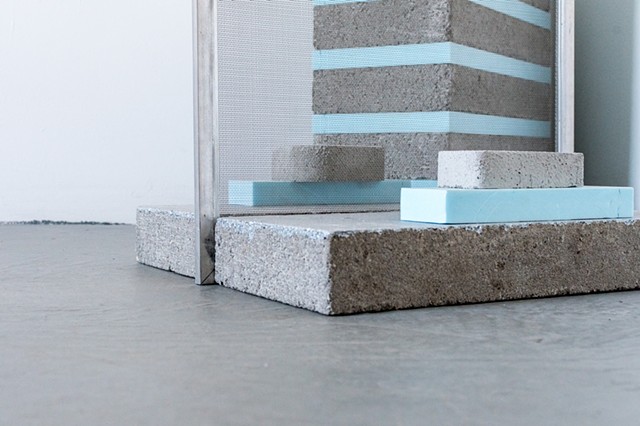 Mirror
insulation foam, cast and pre-cast concrete, window screen, graphite tracing paper, paint
49.5" x 47" x 38.5"
2018
Location: COOP Gallery, Nashville, Tennessee
Photo credit: Brian Edmonds
See review from:
The Rib
http://the-rib.net
"One of the more surprising works here is Nashville-based Brian Jobe's site-specific Mirror (2018). Installed in the far corner of the gallery, it features an elongated grey window screen standing erect between two mirrored cement rectangles with a pale blue tangent of foam-core extending horizontally from the top of its frame. Adjacent, a variegated stack of cement and blue foam triangulates the base; a spatiality which is directly transposed by a densely marked sheet of graphite transfer paper on the opposing wall. Mirror maintains none of the representational imagery seen throughout the exhibition, it's material presence more closely evocative of reductive spatial planes and gestural mark-making seen in contemporary painting. Yet, with Mirror, Jobe mediates this aesthetic language with a sculptural sensitivity to weight and materiality evocative of shared memories. Encountering Mirror denotes an experience of space contiguous with a collective understanding of landscape; it is largely shaped by our individual relationship to it."
— Audrey Molloy, Dialectics of Place(s): Land Report Collective, The Rib, 25 April 2018, http://the-rib.net/project/dialectics-of-places-land-report-collective